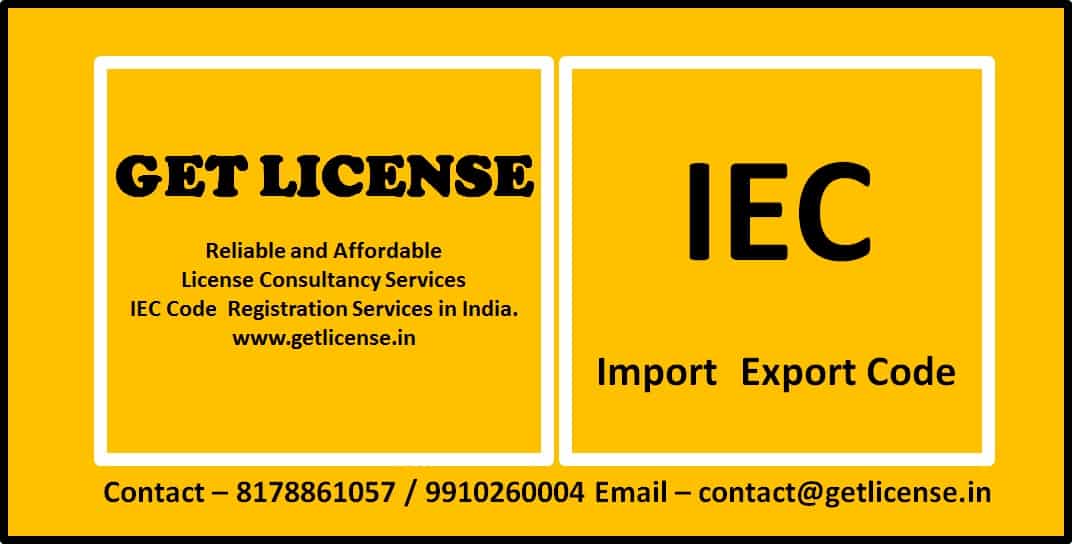 Need IEC Code Registration? Get License Consultants are India's Leading IEC Registration Consultants which provide end to end guidance and support for IEC Code registration. Our services are backed by our years of experience and knowledge. On this page we have shared details regarding IEC Code registration. You may go through it and contact us for further queries.
What is an IEC Code?
An Importer -Exporter Code (IEC) is a key business identification number which is mandatory for export from India or Import to India. No export or import shall be made by any person without obtaining an IEC unless specifically exempted
What is IEC Code for ?
IEC (Import Export Code) is required by anyone who is looking to kick-start his/her import/export business in the country. It is issued by the DGFT (Director General of Foreign Trade). IEC is a 10-digit code which has lifetime validity. If import or export is made for personal use or is made by government department then no IEC is required.
Who can get IEC Code?
An individual or a company who wants to do international business can get an IEC. Individuals can use either the name of their company or their name directly to apply for IEC. To apply for an IEC, PAN, bank account & valid address in the name of the firm is mandatory. Address may be physically verified by the DGFT on issuance of the IEC. Please keep your PAN, bank details and firm details ready before applying.
Documents required for IEC Code Registration
Individual's or Firm's or Company's copy of PAN Card.
Individual's voter id or Aadhar card or passport copy.
Individual's or company's or firm's cancel cheque copy of current bank account.
Copy of Rent Agreement or Electricity Bill Copy of the premise.
How to get IEC Code Registration?
The IEC Code Registration application is an extensive process subject to strict adherence to complete and accurate paperwork and procedure. An error in paperwork is likely to delay the process by several weeks or even months leading to loss of time and money.
Hiring an experienced IEC Consultant can help you save time and efforts and get an IEC Code Registration without a hassle in stipulated time period. If you have a query regarding the MSME Registration, then do get in touch with us. We will be glad to assist you.
We offer end to end IEC Registration Consultancy services across India in all states. In North India we offer services in Delhi, NCR, Jaipur, Jodhpur, Udaipur, Agra, Chandigarh, Amritsar, Ludhiana, Jammu, Allahabad, Patna, Lucknow, Dehradun. In Central India we offer services in Mumbai, Ahmedabad, Pune, Surat, Nagpur, Nashik, Indore, Kolkota, Aurangabad, Vadodara, Kota, Alwar, Ajmer, Bikaner. In South we offer services in Chennai, Bangalore, Hyderabad, Kochi, Madurai, Coimbatore, Bhaubaneshwar, Puducherry, Mysuru, Vishakhapatnam, Mangalore, Thiruchirapalli, Vijaywada, Warangal, Salem, Thrissur, Hubli, Belgaum, Vellore, Secunderabad, Rajahmundry, Tirunelveli. In North East India we offer services in Guwahati, Shillong, Imphal, Gangtok, Agartala, Kohima, Aizawl, Dibrugarh, Silchar and Tezpur.
Call Us: 8178861057, 9910260004
(Visited 548 times, 1 visits today)