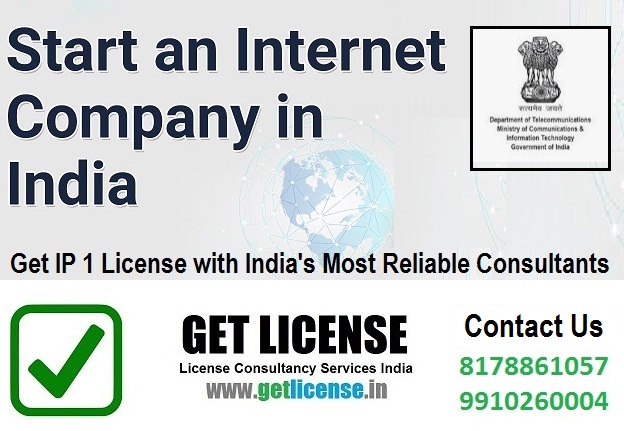 Need IP One License? Get License Consultants are India's Leading IP One Consultants which provide end to end guidance and support for IP One License Registration. Our services are backed by our years of experience and knowledge. On this page we have shared details regarding IP One License. You may go through it and contact us for further queries.
What is IP One License?
Infrastructure Provider (IP One) – The IP 1 providers are those Infrastructure Providers who provide assets such as dark fibers, Right of Way, Duct space and tower
What are the requirements for an IP One License?
To carry on the business of infrastructure Provider for providing assets  such as dark fibers, Right of Way, duct space, Tower for relaying and transmission of signals for internet and telecom based cable services to licensed telecom service provider (TSP's),end subscribers and customers, to offer such infrastructure to other business establishment on lease and commercial terms and to apply and obtain licenses to carry out these objects
The applicant a must be an Indian company registered under Companies  Act
What is the Processing Fee for IP One License?
The applicant company shall pay a processing fee along with the application of Rs 5000/-
How to get an IP One License?
The IP One License application is an extensive process subject to strict adherence to complete and accurate paperwork and procedure. An error in paperwork is likely to delay the process by several weeks or even months leading to loss of time and money.
Hiring an experienced IP One consultant can help you save time and efforts and get an IP One License without a hassle in stipulated time period. If you have a query regarding the IP One License Registration, then do get in touch with us. We will be glad to assist you.
We offer end to end IP One Consultancy services across India in all states. In North India we offer services in Delhi, NCR, Jaipur, Jodhpur, Udaipur, Agra, Chandigarh, Amritsar, Ludhiana, Jammu, Allahabad, Patna, Lucknow, Dehradun. In Central  India we offer services in Mumbai, Ahmedabad, Pune, Surat, Nagpur, Nashik, Indore, Kolkota, Aurangabad, Vadodara,  Kota, Alwar, Ajmer, Bikaner. In South we offer services in Chennai, Bangalore, Hyderabad, Kochi, Madurai, Coimbatore, Bhaubaneshwar, Puducherry, Mysuru, Vishakhapatnam, Mangalore, Thiruchirapalli, Vijaywada, Warangal, Salem, Thrissur, Hubli, Belgaum, Vellore, Secunderabad, Rajahmundry, Tirunelveli. In North East India we offer services in Guwahati, Shillong, Imphal, Gangtok, Agartala, Kohima, Aizawl, Dibrugarh, Silchar and Tezpur
Call Us: 8178861057, 9910260004
(Visited 794 times, 1 visits today)